I have a lifetime subscription to Plex. I've had it for at least eight years. It's cool! It lets me watch IPTV (built-in) and even has the option to connect to digital tuner+antenna combos on my network. I mean, I saw this "HDHomeRun" device I could buy on Amazon a couple of years ago and got curious, but not enough to buy one. Especially since there were the usual statements of, "Oh and you'll need a separate subscription to some electronic TV guide for $5-$25 a year or something, blah blah blah."
HOWEVER, the tax return paid out well this year, so I decided to spring for one last week. A HDHomeRun DUO and a $25 antenna to go with it. It arrived last night, and I got to start playing around. TURNS OUT, it has its caveats, but it isn't so locked down that I can't use it for free (ignoring 1) the cost of buying it in the first place and 2) my Plex Pass, which I would say has all but paid for itself by now).
Now, first off, I don't have cable TV. I have cable internet, but I don't want to opt into Comcast's lineup of 1000-9000 channels that I'll never watch because I have Plex and all the stuff I like already physically and digitally owned. The only thing I have as far as live, over-the-air TV are 18 local channels, 12 of which are accounted for on any sort of TV Guide, electronic or otherwise.
The setup of the HDHomeRun was pretty straightforward. Ethernet to connect it to my network, RG6 and USB to connect and power the antenna. Powered it on and after a minute or so I was able to connect Plex via their pretty decent instructions. At first glance, though, the HDHomeRun website was threatening to charge me directly for recording shows. I wasn't happy to see it, but I also wanted to just play, so I moved forward with the setup.
Turns out, if you're running on Plex, and have the Plex Pass subscription, recording is handled directly within Plex. No need for the HDHomeRun subscription or whatever.
However, a few problems arose during setup:
Problem #1: The initial channel scan only found 3 channels, 1 with 3 sub-bands, so 5 total. I didn't initially understand this, selected what I THOUGHT were channel selections to this list of checkboxes (EPG channels isn't the same as Tuner Channels. No. EPG (Electronic Programming Guide) is a required directory of TV programming, like the good ol' TV Guide magazine, that must be matched to those channels in Plex. Thankfully Plex provides one built-in, and it's good enough, but it wasn't THAT straightforward until I did some research.
On initial matching, I'm trying to watch what I think is PBS Kids and I'm seeing FOX. Very confusing. And only 3 channels? Also confusing.
Then I thought, "maybe this EPG thing isn't what I think it is. Oh! I bet I know. I'm MATCHING the channels on the left to the ones on the right. Not picking the ones I want to BE in the listing at all." So FOX became FOX, PBS Kids became PBS Kids, and all was well.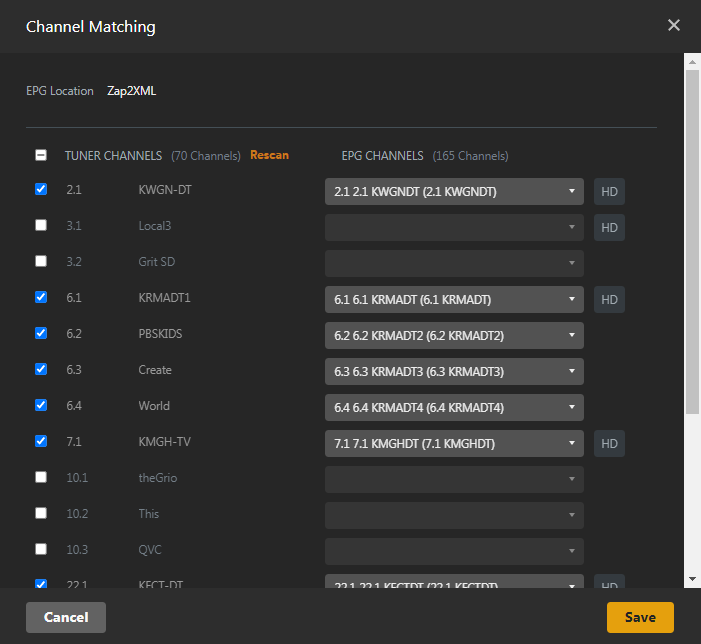 Except 3-5 channels? Then I found the high gain switch on my new antenna. It was tuned to "long-range." If I switch that to "short-range" what happens? My detected channels jumped to 18. NOW I was able to see the stuff I had hoped to find.
And Plex said, "Click this button to record future episodes." I did, and SURE ENOUGH!! In a half hour, I had a new MP4 in my library. A day later and I have a good dozen.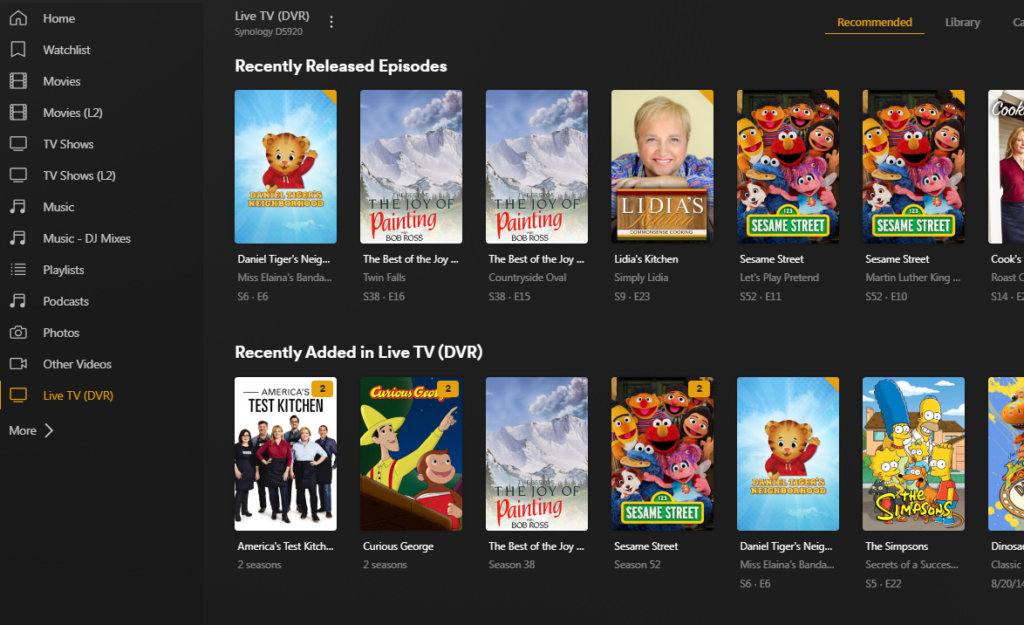 Problem #2: This morning I discovered Twitch2Tuner, a self-hosted Plex-discoverable emulator that uses a developer application on Twitch to read your artists, will pipeline the live streams into Plex AND generate a dynamic EPG (known as an XMLTV file) which Plex can read to enable them (remember, the EPG is required for a channel to function. Plex will disable a live TV channel if it isn't matched with a programming guide).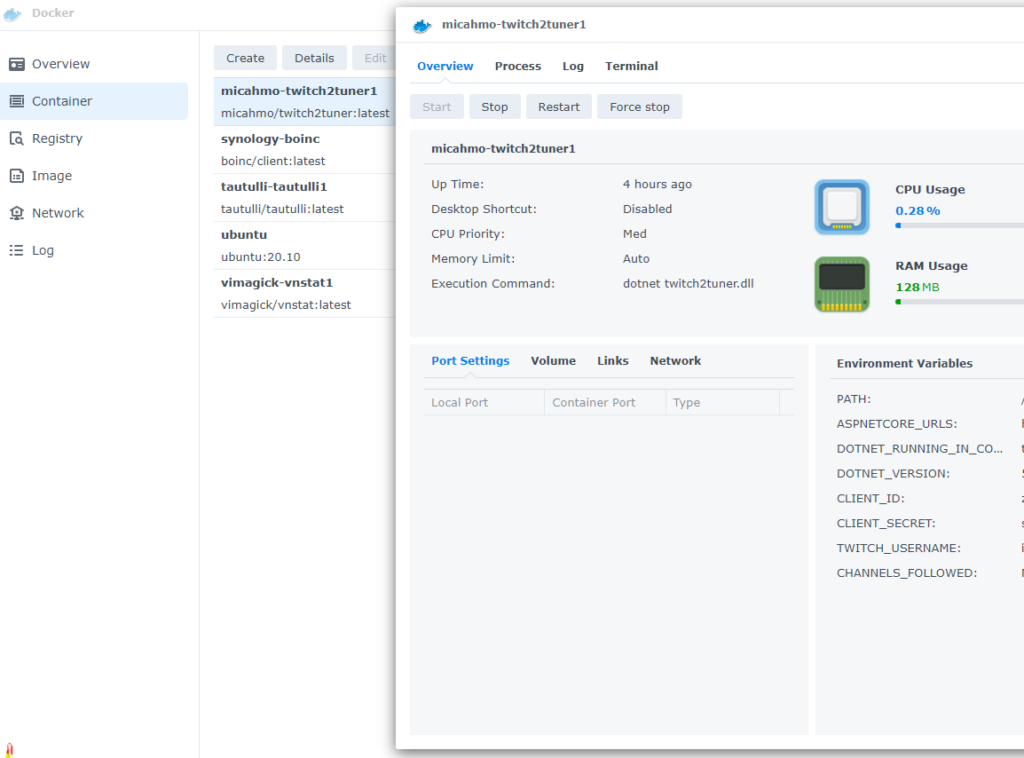 Well, turns out Plex can't use the built-in EPG listing based on ZIP code and an external, XMLTV programming guide generated by someone else simultaneously. And if you want to use an external one (like Schedules Direct, for example) for your actual broadcast TV, you usually have to pay for it.
While Schedules Direct might be the best one (or at least the most recommended) for XMLPG generation, I had to do some extensive searching, and found a script by Zap2it that can take its own TV listing or that of good, ol' TV Guide and parse the channel listings pretty far into the future to generate that mystical XMLTV file directly!! Of course, being 2 years out of date, zap2xml, the script in question, was taken down, but some angel on Archive.org managed to capture it before then, and it still works!!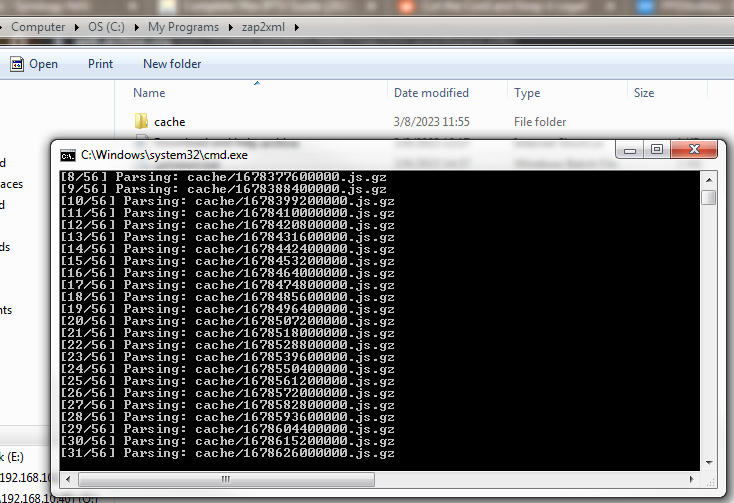 Yes, you must create an account on either Zap2it or on TV Guide to use it and set your location on either, but once that's done, the simple execution of the script with your login info will parse all the returned javascript and translate that into a giant 16MB XML file that can be imported directly into Plex via the Tuner/DVR configuration.
(Though now that I look at it, zap2xml has an option to run based on mailing address rather than a login… I may not even need the free account!)
Once that was done and data was downloaded and all my channels were showing proper stuff, I added my second Twitch2Tuner emulator, also listed. It detected that the DVR setting was set to external XMLTV, and now prompted for the location of the Twitch2Tuner XML file. Which was at http://<ip>:22708!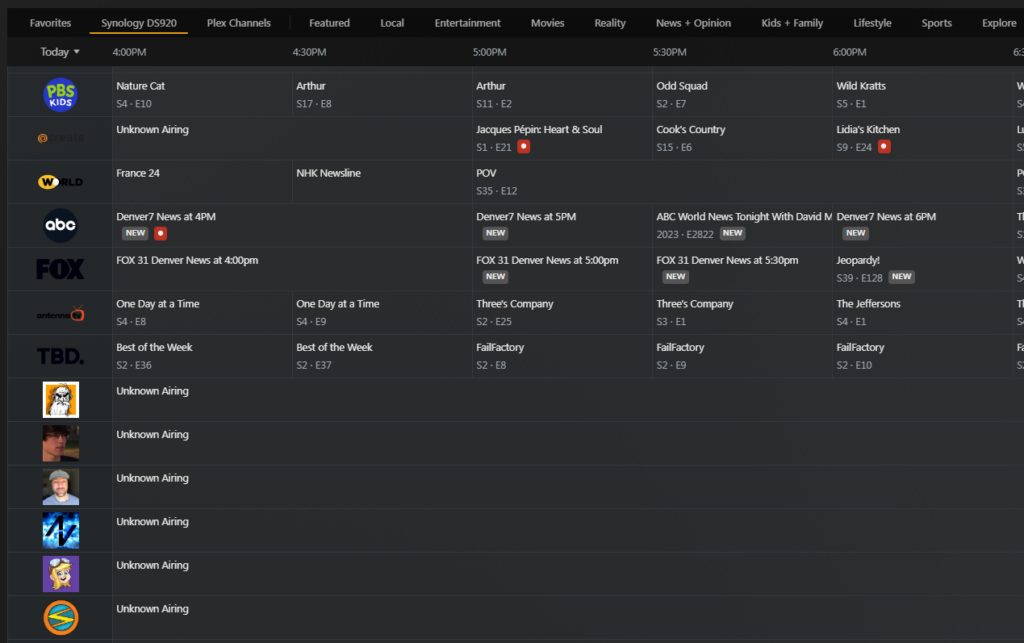 Aside from a few frustrating connection issues with live-watching remotely, I am very happy at this point!